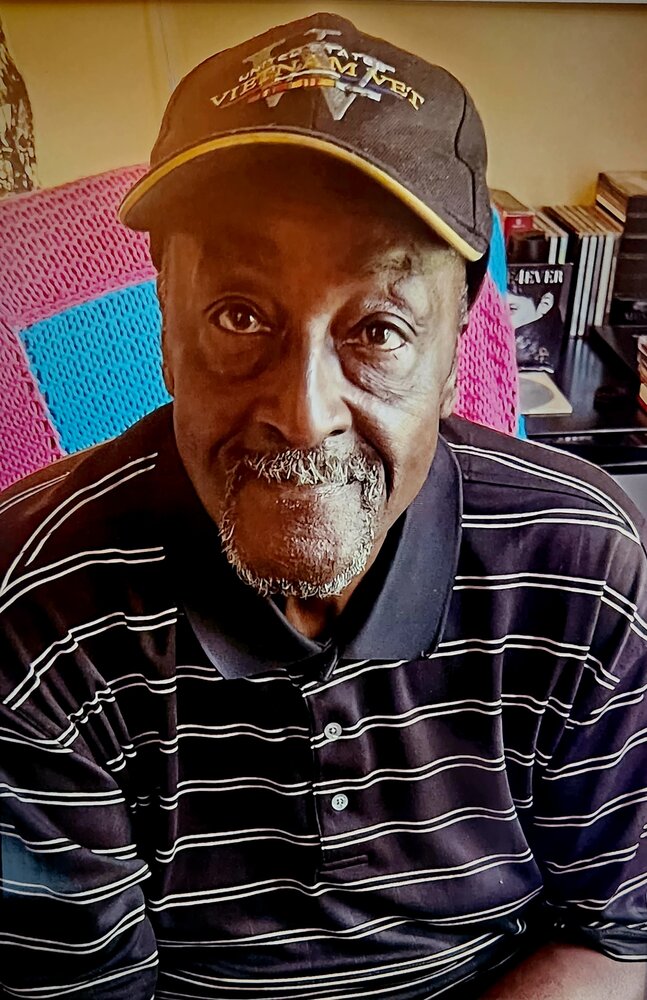 Obituary of Eugene Searcy
Eugene Searcy, a veteran of the Vietnam War and resident of Ballston Spa, passed away peacefully on Friday morning, October 27, 2023 surrounded by his loving family.
Gene, as he was known to his friends, was born December 11, 1945 in Youngstown, Ohio to John and Georgia Mae Searcy.
At the age of 18, Gene enlisted in the United States Navy and served in the Vietnam War onboard the USS Princeton from 1963 to 1966. He worked alongside the United States Marine Corps to transport soldiers and the wounded back home. Gene was very proud of his service to his country and would always be seen wearing his Vietnam Veteran hat. Gene was awarded the National Defense Medal and Vietnam War Medal. He was a strong advocate for better mental health care and PTSD support for Veterans.
After the war, Gene moved to the Albany area where he met his first love and future wife, Margaret Goodwin, and her two children. He worked for the school district as a hall monitor at Philip Livingston Middle School and Albany High School.
Later in life, while working at Glenmont Job Corp, Gene met his second love and mother of his two children, Jeanine Sawyer of Plattsburgh, New York.
Most recently, Gene lived at the Albany Center for Independent Living where he became fast friends with the staff and residents. He would often be seen with his friend Bonnie who lived upstairs and she would tap on the floor to check to see if he wanted company. Gene was also very fond of the staff at Albany Center - especially Karen and Sophia.
Gene is survived by his four children, James (Nicole) Peluso of Keesville, Lucia (Marcus) Valentine of Saratoga Springs, Andre Searcy and Kianna Searcy of Plattsburgh, his two grandchildren Braden Peluso and Charlotte Maben and his siblings Joey Mitchell of East Rutherford, NJ and Althea Mitchell of Las Vegas, NV. He is preceded in death by his Brothers Jimmy Searcy, John Searcy, Willis Searcy, and Earnest Searcy, and his sister Wendolyn Mitchell.
Gene had many passions that included reading, playing chess, listening to music, and eating sweets - lots of sweets. His perfect afternoon would be jazz playing on the radio, a hot cup of coffee, and something sweet to eat - like his daughter's cupcakes. His passion and love for music was palpable and could be heard coming from his apartment at Double Day Woods night and day. Music brought him much joy and his favorites were Miles Davis, Ella Fitzgerald, Gloria Lynne, Dave Brubeck, and most recently, the Avett Brothers, just to name a few.
Gene was a devout Christian and would read from his Bible and devotionals daily. Gene especially enjoyed the moments reading scripture or devotionals with his oldest daughter Lucia. These moments prompted long conversations about life, love, regrets, forgivness, and most importantly Grace. Gene knew that eventually, his battle with cancer would bring him home to his Lord and this brought him and Lucia much comfort in his final days.
Gene loved spending time with his grandchildren. He loved going to breakfast at the local diner and taking his granddaughter to the dollar store where he'd give her her age in dollars to spend. Gene loved meeting new people and had the ability to strike up a conversation with just about anyone over a cup of coffee. He loved collecting things and would often be seen cruising around Ballston Spa with his red walker on the hunt for his next treasure at the local thrift stores.
Cremation has taken place through the care of Simple Choices, Inc.
At Gene's request, there will be no memorial service.
Gene will be laid to rest at Saratoga National Cemetery at a later date.
Fond memories and expressions of sympathy may be shared with Gene's Family, online at: SimpleChoicesCremation.com


Share Your Memory of
Eugene