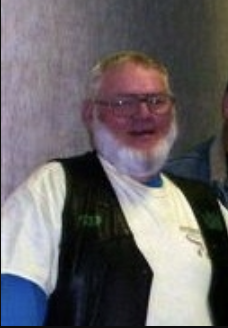 Memorial Service:
A Memorial Service will be held on July 15, 2023 at 1PM at the: Pittstown Volunteer Emergency Corp., 60 Parker School Road Johnsonville, NY 12094. After the service we will stay to mingle, remember, and have a nibble. In honor of him, please wear something Harley Davidson, a tee shirt, hat, etc. He would have loved that!
Memorial Contributions:
Tip was not a flowery type of guy, so if you want to remember him, send a contribution to Turtle Mountain Animal Rescue in Rolla ND, Never Give Up Animal Rescue in Milford MA, or Brooklyn Tabernacle Church in Brooklyn, NY.


Obituary of Wallace Thomas Hayes, Sr.
GRAFTON - Wallace Thomas Hayes, Sr., fondly known as "Tip", born September 9, 1943, went home to be with the Lord on Sunday June 11, 2023. Tip was at home in Grafton, surrounded by his wonderful family. He fought the good fight for well over a year but lost the battle to a combination of many serious illnesses. Tip was formerly from Troy and Watervliet, settling in Grafton in 2005. Although he never passed the 8th grade, Tip was full of all kinds of knowledge, wisdom and much common sense. He was a jack of all trades. Tip drove truck his whole life, starting at Oviatt Plumbing, on to Berman Tri State Floors, a division of Congoleum, and as he got older, changed to driving mini school buses. Tip belonged to the Troy Elks for a short time. He also was a member of the Melchizedek's MC Club until his transition to heaven. Most importantly, he was a member of the family of God, being saved by grace in August of 1979. Tip loved his family dearly and had a huge soft spot in his heart for his four grandchildren. He was kind, thoughtful and generous. If anyone needed a helping hand, he was always the first to respond and reach out. He was an excellent self-taught mechanic. He loved wrenching on cars and motorcycles. He had every tool imaginable. Tip is survived by his wife of almost 54 years, Linda Forner Hayes, his daughter Marie (Fred) Timberlin, his son, Wallace (Rachel) T Hayes Jr. his brother William J Hayes and his 4 fantastic grandchildren, Kaylie Marie Hayes, Emily Lynn Timberlin, Wallace T. Hayes III and Jacob Timberlin. He also has brother and sister in-laws that he loved very much, as well as several wonderful nieces and nephews. He was a fur dad to Abe, Marlowe, and Stormie. Tip was predeceased by his dad, Joseph F Hayes, his mom, Bertha Carroll Hayes, and his infant daughter Anne Margaret Hayes. A Memorial Service will be held on July 15, 2023 at 1PM, at the Pittstown Volunteer Emergency Corp., 60 Parker School Rd. Johnsonville, NY 12094. After the service we will stay to mingle, remember, and have a nibble. In honor of him, please wear something Harley Davidson, a tee shirt, hat, etc. He would have loved that. Thank you to the Samaritan Hospital 5th Floor Pavilion Nurses, Case Coordinator Anna, and floor doctors. A special thank you to Dr. Michael Wolff and Dr. Robert Benton, for years of dedicated care. Tip was not a flowery type of guy, so if you want to remember him, send a contribution to Turtle Mountain Animal Rescue in Rolla ND, Never Give Up Animal Rescue in Milford MA, or Brooklyn Tabernacle Church in Brooklyn, NY. Cremation Arrangements have been entrusted to: Simple Choices, Inc. | Cremation Service 218 2nd Avenue, Troy, NY 12180 (518) 435-8030 Share Online Condolences at: SimpleChoicesCremation.com


Share Your Memory of
Wallace