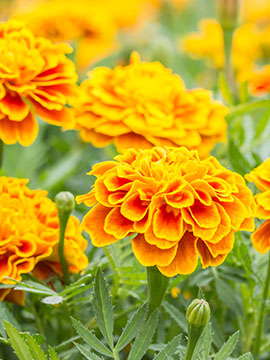 In Memory of
Joyce Marion Bennett
1931 - 2017
Obituary of Joyce Bennett
Joyce Bennett
February 7, 1931 - October 14, 2017
Cambridge - Longtime Cambridge resident, Joyce Marion Grout Bennett, joined her beloved Bill in eternal rest on Saturday, October 14, 2017. She spent her final days at Barnwell Nursing and Rehabilitation Center in Valatie, NY.
Joyce, born February 7, 1931 in East Arlington, VT, was daughter of the late Max and Ruth Grout, sister to the late Mary Elizabeth Saunders and the late Dorothy Dusha. Widow of William G.Bennett.
She is survived by her daughter, Penny Lynn Bennett of Jacksonville, AZ; grandchildren: Heidi (Ryan) Sheehan, Bethany (Derek) Scanlon, Megan (Jesse) Kostas-Amaro and Geordan Kostas. Great grandchildren include, Tabetha Zimmer and Alastair Sheehan. Joyce is also survived by a brother, Alden (Maggie) Grout of East Arlington, VT. and many nieces and nephews. Special care was given to her by niece Dianne (Dusha) Mosher. Special communications were frequently received from nephew, Reggie Saunders of Orlando, FL and best friend, Shirley Feron of New Mexico. Laura and Richard Baker of Cambridge were long time friends and really steeped up when Joyce needed them.
Until her first bout with illness three years ago, Joyce was a very active person. She and Bill resided for many years in Canton. They raced ponies, with Joyce handling most of the barn chores. Joyce worked many jobs through the years mostly in bookkeeping and retail, using her associates degree from St. Joseph's Business College. Joyce was longtime secretary of the Cambridge Saddle Club, a Stanley Home Products demonstrator, bowled in the Women's League in Cambridge and was a member of the Red Hat Society. She was active as a poll official during elections and was a Teddy Bear collector with over 400 in residence at the time of her passing.
Joyce was well known for her sewing, crafting and culinary skills. Some of her specialties were sewing race silks for harness jockeys, crafting Christmas ornaments and "crafting" beautiful marzipan cookies in the shape of fruit.
More than what she "did" in life, she will be remembered as "who she was". Joyce was kind, helpful, loving and truly a wonderful person.
As per her wishes, there will be no funeral. A celebration of Joyce's life will be held graveside at 3 p.m., Sunday, November 5th in Woodlands Cemetery, Cambridge, NY.
Many thanks to all who helped Joyce through the good times and the bad. The past three years have been difficult but she appreciated the rides, phone calls, visits and shopping, etc., that people helped her with. Special thanks to the staff at Greenwich Medical Center, Greenwich, NY.
Donations in Joyce's memory may be made to the Cambridge Saddle Club, P. O. Box 221, Cambridge, NY 12816 or the Cambridge Valley Resue Squad, 37 Gilbert Street, Cambridge, NY 12186
(518) 435-8030
Proudly Serving the Entire Capital District