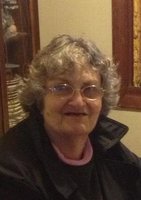 Rita M. Rockenstire
Averill Park, NY
Rita M. Rockenstire, 71, of Averill Park, NY, passed away, after a short illness, on July 5, 2019, at the Hospice Inn at Samaritan hospital, surrounded by her loving family.
Born in Troy, NY on March 14, 1948, Rita was the daughter of the late, Donald and Catherine Rootes Goodness. She was a devoted housewife and mother from the time she married her late husband, Jesse T. Rockenstire, II. They shared a marriage of 30 years ending with Jesse's death in 2003.
Rita had many hobbies like gardening, crafts and painting which kept her busy along with her 5 grandchildren.
Rita is survived by her three children: Jesse T. Rockenstire, III, Patricia A. Rockenstire and Michael J. Rockenstire; her grandchildren: Cody, Michael Jr., Jesse, IV, Dylan, and Chloe all of Averill Park.
She also is survived by her three brothers: Arthur Goodness of Florida, Steven Goodness of Averill Park and Richard Goodness of Florida as well as many nieces and nephews.
A Funeral Service will be conducted from the Riverview Funeral Home, 218 2ndAvenue (corner of 104thStreet) on Wednesday evening at 6 pm with Pastor Glen Hamilton officiating. Relatives and friends are invited to attend and may also call at the funeral home from 3 to 6 pm prior to the service.
Rita's family would like to thank Community Hospice and their staff for all the loving care and support shown both to Rita and her family during this difficult time. In lieu of flowers memorial donations in Rita's memory may be made to Community Hospice of Rensselaer County, 295 Valley View Blvd., Rensselaer, NY 12144.