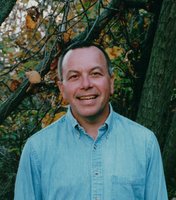 Michael Dale Sodders
Much too soon, Michael Sodders passed away on June 15, 2019, taking his multitude of gifts and zest for life with him.
Proud dual citizen of Italy and the United States. Fan of Mozart and Joni Mitchell. Golfer. World traveler. Police officer. Avid Risk player. Pianist. Carpenter. Motorcycle enthusiast. Boat captain. Patron saint to campus cats. Self-taught Renaissance man who was not afraid to fight for what was right in any situation. A true friend who encouraged everyone to be their best.
Michael Dale Sodders was born on August 30, 1952, in Rantoul, Illinois. He grew up in Centereach, New York, and spent many years working as a carpenter around the country - Long Island, North Carolina, Minnesota, and Washington. He attended SUNY Stony Brook, studying music (piano) and earning a BA. When he realized that he could put down his tools and become a SUNY police officer, he dedicated himself to academy work and graduated in October 1999. He married Laura Christman in April 2001, and they shared their home with the cats he acquired from the various campuses at which he worked: Stony Brook, New Paltz, finishing his career at Maritime. In the winter, he was known to heat cans of cat food on the dashboard before putting them out for the ferals. An active union member, Michael was instrumental in getting University Police their 25 year retirement option, which passed in 2015.
He was comfortable at both the Metropolitan Opera and the local bar. He enjoyed striking up conversations with people and garnering an array of knowledge from them, and being inspired by their passions. YouTube was his go-to for any repair he didn't already know how to do, and he took great pride in doing almost everything on his own.
Researching and claiming his Italian citizenship was one of his favorite recent accomplishments. He celebrated the start of his retirement with a long cross-country motorcycle trip, and was setting up a woodworking shop in which to tinker. He loved to regale friends and family with colorful retellings of his adventures, and his enthusiasm was infectious.
Michael leaves behind his wife, Laura, their beloved cats, his mother Marie Sodders, brother Patrick Sodders, sister Pam Losquadro, and many cousins, nieces and nephews. Michael was predeceased by his brother, Robert.
Donations can be made in his name to any cat rescue organization of your choice.
Michael will be greatly missed.