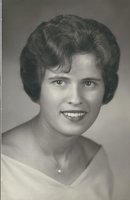 Marilyn Ruth Riganti
East Greenbush, NY
Marilyn Ruth (McGinnis) Riganti died suddenly July 3, 2018 from complications related to Parkinson's Disease. Having lived most of her adult life in the Capital District, in recent years she was a resident of Evergreen Commons Nursing Center in East Greenbush. Daughter of the late Edward John and Aurilla (Havens) McGinnis, Marilyn was born January 21, 1941 in Hudson Falls. She was a graduate of Hudson Falls High School.
In her senior class yearbook Marilyn wrote, in her characteristically matter of fact way, that her life's dream was to "marry and have children". Family being central to her life, she typically placed her own comforts second to the happiness and wellbeing of others. Professionally too, she lived in service to others, from her first job as a waitress to later roles as a home health aide, cook, housekeeper, and elder companion. Throughout her life, until declining health prevented it, she regularly volunteered in her community, at church, and at daycare and nursing home programs.
Marilyn had a great affinity for red, a color strongly symbolic of her personality: simple and primary; outgoing and easily mixed with others; youthful and fun, but sometimes brash; warm and compassionate. A sympathetic extrovert, she loved social interactions, including bowling league, game nights, and conversations with relatives and friends. Averse to solitude, she unabashedly professed books "boring", but made certain her daughters' love for reading was fed by weekly visits to the library and caring support for their educations.
Marilyn was predeceased by her eldest sisters Margaret Eagle and Helen Claire McGinnis, her brothers Edward, Robert, Richard, Paul, and John, and her husband Michael Riganti. She is survived by her sisters Phyllis LaPan and Susan Palmer, both of Hudson Falls, her daughters Melissa McGinnis of Plainsboro, NJ and Filomena Riganti of East Nassau, and many beloved members of her large extended family. In keeping with her wishes, there will be no calling hours or funeral. Her family suggests that donations in Marilyn's name to the community service organization of your choice would be a fitting honor to her memory.