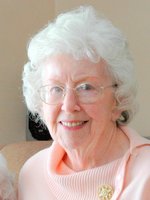 Dorothy J. Bryant
Dorothy Jean (MacLean) Bryant, 88, of Hammond, passed away Friday, December 22, 2017 at Ellis Hospital in Schenectady. Dorothy was born in New Richmond, Quebec on August 2, 1929, daughter of Dr. Alexander Charles and Gertrude (Henderson) MacLean.
She graduated secondary school from Mount Allison Academy in Sackville, New Brunswick, and then Notre Dame Secretarial School in Montreal, Quebec. Dorothy received her R.N. degree from The Royal Victoria Hospital in Montreal, Quebec (1952) and then subsequently worked as an R.N. in California, Hawaii, New Jersey and New York.
On May 27, 1955, Dorothy married Gordon Edward Bryant in Wyckoff, New Jersey and then built a home together on Glen Wild Lake in Bloomingdale, New Jersey, where they raised a family of three children . Afterwards, they purchased an old farmstead located along the Rossie-Hammond Road in May of 1967, and then moved there permanently in December of 1976.
From 1978 to 1994, Dorothy worked at United Helpers Cedars in Ogdensburg, retiring as the Director of Nurses. She enjoyed gardening, playing piano, singing, needlework and reading.
Dorothy is survived by her children Kurt (and wife Janet) Bryant of Glenville, NY, James Bryant of Longmont, CO, and Laura Bryant (and husband Thomas Hufendick) of Longmont, CO, and five grandchildren … Leigh Bryant, Quinn Webster, Emilie Bryant, Lily Webster, Adrienne Bryant, sister-in-law Patsy MacLean of Antigonish, Nova Scotia, and a number of nieces and nephews living across Canada . She is predeceased by her husband Gordon, her brother Peter MacLean, her sister Mary Campbell, and her grandson Cole Bryant. Dorothy's life will be celebrated in private ceremonies with family and friends around the US and Canada.