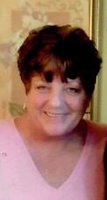 Sheila Weinman
Albany, NY
SHEILA WEINMAN
Sheila E. Weinman, 57, of Albany NY passed away on Wednesday, February 28th, 2018.
Sheila was born on September 15th, 1960. She graduated from Colonie High School. For the majority of her career she worked as Assistant Branch Manager at Key Bank and M & T Bank.
She is predeceased by her beloved husband, Stephen Weinman, her parents, Joan & Mathew Malloy. Survivors include her precious son, Matthew, siblings, Shelly Godin and Colleen Goyette and many nieces and nephews.
The family wishes to thank St. Peter's Nursing and Rehab Center staff for their compassionate care for the short time she was there.
A mass will be celebrated on Thursday, March 8th, at 10:30am at Blessed Sacrament Church, 607 Central Ave., Albany NY with Father Bradley officiating.