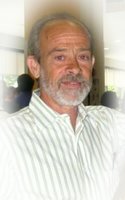 Kenneth Raymond "Ken" Boni
Kenneth Raymond Boni, 65, most recently of Halfmoon, NY, passed away peacefully, with his daughter Stacie, at his side. Ken was born March 11, 1952 in Niskayuna, NY, the son of Orlando Boni and Jane Bosher VanDuren.
Ken had a brilliant mind for computers and started out as a programmer for New York State in the early 1970's. Ken was self-taught and worked his way up to be a Systems Engineer. Ken was an industry expert on MMIS systems and his expertise was highly sought after. He developed Medicaid systems for numerous states, one of his largest projects was making the state of Louisiana HIPPA compliant. He most recently worked for the NYS Comptroller's office.
Ken loved to travel and lived in various states throughout his career. His favorite place to vacation was Key West.
Ken is pre-deceased by both of his parents, his brother, Orlando "Lenny" Boni and a very special niece, Boni Jane Connors.
Ken is survived by his children, Stacie Boni (Jim) of Corinth, Todd Boni (Georgi) of Corinth, Kathleen O'Connor (Peter) of Cairo and Wesley Boni of Saratoga Springs. He is also survived by his grandchildren, Jacob Fuller, Keegan O'Neil, Nathaniel O'Neil, Marc Vlasaty, Candice Vlasaty, Mackenzie Boni, Savanna Baylis and Isabella Boni. His siblings, Jane Sirigiano (Charles), Thomas Boni (Michele) and Patrick "PJ" Boni (Nancy), three, special great nieces, Aubrey, Amber and Alyssa Connors and many more nieces, nephews and cousins.
There will be no services at Ken's request. The family will hold a private celebration of life at a later date.
Memorial donations may be made in his name to a charity of one's choice