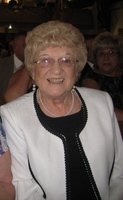 Dorothy Ann "Dottie" Franceski
Rexford, NY
Dorothy Ann Franceski, (Dottie) 92, of Rexford, New York, passed away peacefully on January 24, 2018 at Ellis Hospital. She was born in Forest City, PA, on January 5, 1926. Dorothy was a graduate of Forest City High School where her studies focused on shorthand and typing. After graduation, Dorothy worked as a bookkeeper and secretary for Joseph's Jewelry Store in Carbondale, PA. After moving to Schenectady, with her husband Arthur in 1948, Dorothy worked full-time as a secretary at General Electric and part-time as a bookkeeper for her late husband's parking lot business. After leaving her position at GE to raise her family, she worked part-time for Olsten Services and Bellevue Maternity doing secretarial work.
Dorothy was most happy living at Meadow View Senior Living Complex with all of her dear friends. She enjoyed playing cards, bingo and loved going to the Casino. Celebrating holiday traditions with her family brought her great happiness. Everyone always looked forward to the wonderful homemade treats and cookies she would bring to social functions, as well as family functions. Dorothy had the unique gift of finding the best in everyone. Her kindness and generosity was felt by everyone that she touched.
She was the wife of the late Arthur Carl Franceski, beloved daughter of the late Stanley and Josephine Benarick and the sister of the late Stanley Benarick, Eugene Benarick, and John Benarick.
Dorothy is survived by her children, Cheryl (Richard) Forgea of Clifton Park, Darren (Carolyn) Franceski of Fort Edward, and Thomas (Patience) Franceski of Clifton Park. Other survivors include her three grandchildren Kristen (Jay) Riley of California, Joel Franceski of Cohoes and Alana Franceski of Syracuse, along with her two great grandsons, Mason and Bowen Riley of California.
Dorothy was a congregant of St. Edward the Confessor Church.
Calling hours for Dorothy will be on Saturday, January 27, 2018 at St Edward the Confessor Church 569 Clifton Park Center Road in Clifton Park from 9:00 a.m. to 11:00 a.m. followed by a service and celebration of life mass which will begin at 11 AM.
Private inurnment will take place at the Gerald B. H. Solomon Saratoga National Cemetery.