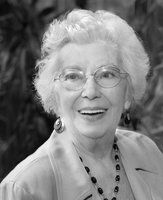 Ardis B. Timmis
Albany, NY
Ardis J. Timmis (Burroughs) 87, of Guilderland, passed away January 2, 2018 at St. Peter's hospital after a bout with pneumonia. Born in Ohio, she was the daughter of the late Robert and Elizabeth (Silber) Burroughs.
Valedictorian of her high school class, Ardis began her college career at Dennison University and graduated from NYU with a Bachelor's degree in psychology. When all her children were in school, Ardis earned a Master's degree in Special Education from Russell Sage College. Ardis taught special education for many years at Rensselaer High School. She treasured the job and sharing her love of learning with her students gave her tremendous joy.
Ardis was the best mother and grandmother a family could ask for - funny, smart, interesting, warm, welcoming, and loving. She always had time to share a story or to scout out chocolate desserts. She believed having fun and laughing with children was more important than a tidy home. Ardis loved jazz, games, books, movies, doing crossword puzzles, gardening, watching the Boston Red Sox, and playing bridge with her weekly bridge group. Her favorite activity, however, was spending time with her grandchildren.
Survivors include her children Robert of Guilderland, Andrew (Ann Lewis) of Hanover, MA, Kate (Lee Jackson) of Ghent, and Laurie (John Bilyi) of Clifton Park, along with grandchildren Rosemary (Chris Involdstad) Wright, Alexander Timmis, Andrew Timmis, Elizabeth (Doug) Faulkner, Olivia Timmis and Spencer Timmis, and great granddaughter Mollie. She was preceded by her sister Sarah Burroughs, daughter Carolyn, and husband, James.
A reception and sharing of memories for friends and family will be held January 20, 2018 from 3 to 5 PM at the Riverview Funeral Home, 218 Second Ave, corner of 104th St.) Troy. In lieu of flowers, the family requests that memorial donations be made to the Downs Syndrome Aim High Resource Center (DSAHRC.org).