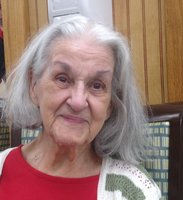 Solange Anita Carpenter
Solange (Martin) Carpenter: Age 90. Solange passed away peacefully on December 20, 2017. After raising 4 children, she earned a 2 year nursing degree and was employed with St Peter's hospital for many years in the pediatric center. She also did private duty for a number of years.
She loved antiques and refurbished so many items, bringing them new life. She adored her children and cherished her grandchildren. She was predeceased by her eldest child, Francine Carpenter, by only a few months. She is survived by her children Joseph Carpenter, Jr (Carolynn), Christopher Carpenter (Deb), and Julie Carpenter; by her grandchildren, Scott Carpenter, Dawn Cervoni (Kevin), Jason Carpenter (Julie), Stephanie Carpenter (Mike Archambeault, II), and Jamin Carpenter; by her great grandchildren, Talia, Angie, Connor, Chloe, and Tanner.
She also leaves behind several extended family members.
We will miss her laugh and her endearing smile. We love you Mim!