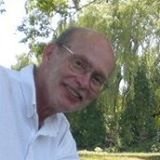 John D. Chestnut
John Dickson Chestnut of Ballston Spa, NY passed away on November 14, 2017 at his home surrounded by loving family. John was born May 11, 1948 in Doylestown, PA, the son of Frank K. and Marion Chestnut.
John is survived by his wife Nancy Thompson, his brother Frank Chestnut, sister Kass (Mark) Guss, brother Peter (Kate) Erwin and nieces and nephews. He was predeceased by brother John Erwin.
John grew up in Middleport NY, graduated from SUNY Delhi, and was President of his fraternity Kappa Sigma Epsilon. He continued to be active in fraternity and alumni activities throughout his life.
John enjoyed his cats, outdoor activities, gardening, cooking, antiquing and time spent with family.
A memorial service will be held at a time and place to be determined.
In lieu of flowers, contributions may be made to the American Cancer Society.