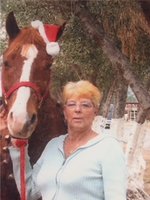 JoAnn Schreck
JoAnn Schreck of Troy, NY passed away on Tuesday October 17, 2017 at Albany Medical Center at the age of 66.
She is survived by her daughter Christina Schreck(Ryan King).
Jo(as she was affectionately known) was a loving, wonderful woman and mother who would help anyone. She was a single parent who made sure her daughter wanted for nothing. She was sweet, strong, independent, and so much more. A hard working person who made a career of helping others. Born and raised in New Jersey she moved to California in her 20's where she worked as an EMT then a Paramedical Examiner. She moved to Troy in 2012 where she got a job she loved with the Red Cross, with many co workers who soon became friends. She was there until her passing.
JoAnn also loved animals, especially her two dogs Jackson and Jillson and her "Grandhorse" Taz. She also loved to cook and every meal she made, was made with love.
A thank you to the ICU nurses and Pastor Stephanie at AMC for their kindness and making sure someone was always by her side.
There will be no formal services. Informal memorial will be held on 11-5-17 in the Red Cross parking lot at 6pm. 33 Everett Rd, Albany followed by a 7pm dinner at the Red Lobster in Colonie.