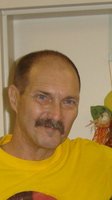 Gene C. "Rusty" Rist, Jr.
Watervliet, NY
Eugene C. Rist, Jr.
Gene (Rusty) Rist, 56, of Watervliet, passed away Friday September 29th at St. Peter's Hospice after a long courageous battle, with his loving family by his side.
Born in Troy, Oct. 6th 1960 he was the son of the late Eugene Rist Sr. and Ann "Nancy" (McConnell) Rist of Troy.
He grew up in Lansingburgh and worked at various places including Ross Valve and V.M. Choppy's of Troy.
He is survived by his siblings Lisa (Tim) Vickerson of Brunswick and Lynn Delamater and Larry Rist of Lansingburgh. His loving children, Erica (Wayne) Rist of Troy, Justin (Jess) Rist of Troy, April (Mike) Rist of Troy, Stevie (Dan) Marcy of Watervliet, and Anthony Rist of Arizona. He also leaves behind his dog Rocky. He has 17 grandchildren and many nieces, nephews, aunts, and uncles.
He loved spending time with his children, grandkids, family and friends, never missing a birthday or special event for anyone. He was a jokester at heart always making everyone laugh.
Special thanks to his Aunt Cissy for being there for him every step of the way and to Timmy McDonough for being a great friend throughout all these years.
Per his request services will be private. A get together for family and friends will be announced at a later time. In lieu of flowers there will be a fund set up for expenses.