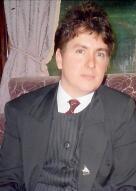 Steven A. Paolucci
Clifton Park, NY
Steven A. Paolucci, died suddenly on Monday, June 12, 2017.
He is survived by his loving and cherished wife of 34 years, Paula Marie Paolucci, his parents, Albert and Carmela Paolucci of Albany, a sister Elaine (Barry) Seeskin of St. Louis and several nieces, nephews and cousins.
Steve was a goal-oriented entrepreneur who was successful in every business endeavor he pursued, including his business RAM Audio Video. He was a spiritual, kind and generous man who inspired and helped others to achieve their dreams. He was a world traveler, but especially loved to travel with his wife to Walt Disney World and to Boston for the Pops 4th of July celebration.
Steve loved animals and will be sorely missed by his three cats: Nikki, Paris and Juliette.
Visitation will take place on Tuesday, June 20 at 9:30 a.m. followed by mass at 10:30 a.m. at Saint John the Evangelist Church, 806 Union Street, Schenectady, New York.
Memorial contributions can be made to the Animal Protective Foundation, 53 Maple Avenue, Scotia, New York 12302.