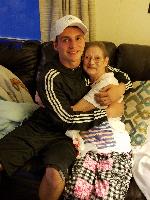 Nadene Sue Rossman
In Memory of
Nadene Sue Lown-Rossman
January 21, 1950 – June 4, 2017
Nadene Sue Lown-Rossman, 67, of Colonie, passed away on Sunday, June 4, 2017 at home with her family after a long battle with metastatic breast cancer.
She is predeceased by her parents, George E. & Delores E. Lown and a brother, George Lown. She is survived by her daughters Dana (Eddie) Soto and Stacy Peterson; 11 grandchildren, Patrick (Jennifer) Teal, Kara Teal, Jonathan Simpson, Brianna Simpson, Dorian Redden, Brandon Soto, Brianna Soto, Edwin Soto, Josiah Kemp, Jasmine Peterson and Sasha Peterson; a great grandson Jacobi Teal, and several nieces and nephews.
Her time with family and friends were cherished most of all. She enjoyed shopping, gardening, crocheting, sewing, music, video games and watching baseball and football. NY Yankees and NY Giants were her favorite teams. She was a wonderful mom, grandma, and friend. She leaves us all with the best of memories. She will be missed dearly and will be in our hearts every day.
The family would like to express their gratitude and sincerest appreciation to The Community Hospice Foundation and Belvedere Health Services for all their support, services, advocacy, care and counseling.
Per Nadene's wishes, there will be no formal funeral service or viewing. A private memorial gathering with family and friends for a celebration of her life will be held on Saturday, June 10, 2017 at 1:00pm at her daughter Dana's residence.
Memorial contributions can be made to:
The Community Hospice Foundation of Albany County
445 New Karner Rd.
Albany, NY 12205
Or on the website: donate.givetocommunityhospice.org/