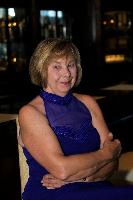 Luba H. Ricket
Luba Honczak Ricket, an Angel on Earth, became a Heavenly Angel on May 19, 2017, 1 day before her 71st birthday. She had bravely battled lung cancer since June 2016.
Luba was born in May, 1946 to "displaced" Ukrainians Maria (Mary) and Iwan (John) Honczak in Kunzelsau, Germany and thanks to the sponsorship of Sofia and Ilko Dylin, emigrated from Germany to the United States; landing in New York Harbor on July 1, 1950.
Luba was raised in Yonkers, NY along with her 2 younger sisters, Helen and Maryann. Luba graduated from Westchester Community College and Hunter College of The City University of New York.
Luba was a proud resident of the Village of Colonie since 1969, moving there after marriage. She happily raised her three sons while actively participating in their various school activities, most memorably teaching the students of Forest Park Elementary School the art of pysanky - Ukrainian Easter Eggs, and founding and running a downhill ski club to Willard Mountain.
Luba was a continuing education teacher before the birth of her first son. She was also a market researcher, a contributing photographer for the Colonie Spotlight, a bookkeeper for Kelly Clothes, and retired from the job that she loved the most at the New York State Department of Environmental Conservation.
In addition to being a dedicated mother, Luba also excelled on her own as a musician and accomplished photographer. Luba had been a member of Albany Center Galleries, the former Fulton Street Gallery, and most notably the Schenectady Photographic Society (SPS) where she was privileged to learn from so many of the talented members and became an inspiration to many as well. Her works have been displayed in numerous galleries, shows, and publications; including Southwest's Spirit Magazine featured story about Albany, NY in 2009. The SPS recently announced "The Luba Ricket Creativity Award," to encourage and recognize members who push the boundaries of photographic expression. You can learn more about this wonderful group at www.spsphoto.org.
Luba's other cherished passions included family, friends, angels, hummingbirds, gardening and travel. She was blessed to combine those on her various family trips around the US and Canada, Ukraine, German, Italy; the numerous laughter-filled women's retreats with her "Zoomer" friends; and most recently a "photographic tour" of Iceland with a group of her dear SPS friends.
She is survived by her sons, William "Ted" Ricket, Michael (Connie Liu) Ricket, Matthew (Tracy) Ricket; her sisters Helen Honczak Onofrio and Maryann Honczak (George Beladino); her nephews and nieces, Alex (Kristen) Onofrio, Jessica Beladino, Mark Onofrio, Lauren (Jason) Martin, Beverly Beladino; and her wonderful group of friends.
Per Luba's wishes, she will be cremated without a public service. A memorial service and celebration of life will be planned for a future date.
In lieu of flowers, please honor Luba's memory by donating or volunteering to your favorite charity or organization, by sharing your time and knowledge with others, by being a great friend, by following your own passions and dreams, and never stop learning.
The Ricket-Honczak family wishes to express their sincere appreciation to Dr. Duncan Savage and his loving team at St. Peter's; Dr. Qin Zen and the wonderful team at NYOH; and The Community Hospice, particularly Melanie, for being our "Guardian Angel".
Many heartfelt thanks to her neighbors and friends for all of the love, thoughts and prayers, texts, emails, calls, flowers and cards that kept her smiling. We are forever grateful to all of you!