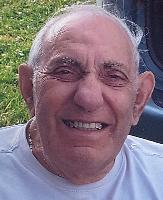 Vincent Bottone
Vincent Bottone passed away peacefully at home surrounded by his beloved family and aid Radha on May 8th, 2017. Born November 29th, 1925 in Schenectady, NY. The son of Salvatore and Millie Bottone. Service Navy 1947 after which he grew into Bottone Memorials which he owned and retired. He was dedicated to his two grandsons whom he loved so much, great-grandson who he was so proud of and a great granddaughter he was so anxious and excited to meet. He loved Bowling, dancing and entertainment with family and friends. He will join his beautiful wife Dorothy of 70 years.
Survivors include his two children Mariepaulette and Vincent(Lynn), two grandsons Vincent Jr (Megan) and Nicholas(Jessica-fiancée), great-grandson Vincent III whom he was blessed to have spent time with and great-granddaughter Stella, which he couldn't wait to meet. Vincent had two siblings Salvatore Jr and Gloria.
We love you dad, poppy and pop pop.
A memorial mass of Christian death and burial will be celebrated St. Madeleine Sophie Church 3500 Carmen Rd, Guilderland NY 12303. Relatives and friends are invited to attend May 12th @ 10 am.
In Loving Memory Of
Vincent Bottone
Born November 29, 1925
At Rest May 8, 2017
I am home in Heaven, dear ones:
Oh, so happy and so bright!
There is perfect joy and beauty
In this everlasting light.
All the pain and grief is over,
Every restless tossing passed:
I am now at peace forever,
Safety home in Heaven at last.