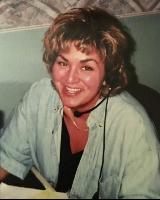 Brenda Susan Lengyel Quirk
Brenda Susan Lengyel (Quirk) 50 passed away peacefully Thursday, May 4, in her sleep.
She was born to Paul (deceased) & Mae Lengyel, April 1 1967, in Albany, N.Y. Brenda graduated from Guilderland HS in 1985 and received a BA in Business from North County Community College in Saranac Lake, N.Y.
Brenda was employed as a purchasing agent for Childs Hospital followed by Albany Medical Hospital after the merger until her illness.
Brenda loved spending time with family, cherished friends, her soul sisters Deidre & Debbie, gardening, and yearly vacations to the beaches in Maine. She loved her cat "Kitty".
Brenda is survived by her mother Mae Lengyel, brothers Paul (Skeet) & Dreama Lengyel, David Lengyel, Michael & Lisa Lengyel. She is also survived by many loving nephews & nieces.
You have earned your wings Brenda now fly with the angels.
The family is requesting donations be made in the memory of Brenda Lengyel to the Schenectady Community Home Inc./ Joan Nicole Prince Home 22 Glenview Drive P.O. Box 2122 Scotia, NY 12302-0122
A sincere thank you to all of the Hospice Doctors, Nurses and especially the kind and compassionate volunteers of the Joan Nicole Prince Home.
A private memorial service will be held by the family.