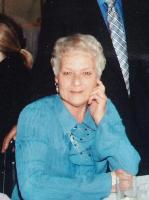 Frances E. Luraas
Frances E. Luraas, 81, of Brunswick/Troy NY, passed away peacefully at her home on April 19, 2017 with her loving family by her side.

She was born in Montreal, Canada on April 29, 1935 and remained until her early 20's. She then became a US Naturalized Citizen in the early 60's.

Fran loved and enjoyed every moment with her devoted family. Her special interests were "her" New York Rangers, the Olympics (esp. winter), gardening, cooking, and her love and patriotism for the United States were undeniable.

She worked her early years as a waitress in the North Country, then enjoyed and took great pride working in food service at Siena College until her retirement.

Frances is predeceased by her husband Trooper Robert B. Luraas. Survivors include daughters Rhonda (Dexter) Duell and Roberta (Rick) Jones; 4 grandchildren, Aaron (Brielle) Duell, Jessica Duell (Brian), Heather (Josh) Stiles, and Erica Jones; 5 great grandchildren, Makenna and Brayden Stiles, and Brandon, Abbey, and Jude Duell.

Please join us for her "Celebration Of Life" on May 20, 2017 at The American Legion 111 Main Ave. Wynantskill, NY 2:00-5:00 PM.