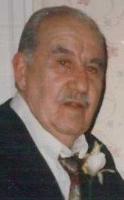 Earl Davis
Earl Davis 94, of Schenectady NY, husband of 70 years to Peg Davis (who died 2.15.17), passed away peacefully on Monday, April 17, 2017, at Ellis Hospital, in Schenectady.
Born in Albany on November 26, 1922, he was a veteran of World War II, who proudly served his country in the Pacific Theater. Earl was a well-known business man in the Albany area. He owned and operated the Ford Davis Grocery on Clinton Avenue. Earl was also a well-liked and respected automobile dealer, operating several retail and wholesale locations throughout the capital region area.
He was an avid fisherman, golfer, and a devoted family man.
Earl is survived by his loving children, Susan (John) Gosselin of Colonie, Earl (Patricia) Davis Jr. of Delmar, Brian (Lynn) Davis of Clifton Park ; as well as his three cherished granddaughters, Laura (Rob) Franz, Carrie (Bill) Davis, Christina (Charles) Davis ; and four adored great-grandsons, Nick, Jack, Charlie and Miles. Also surviving are several nieces and nephews.
A private family memorial observance will be held at a later date.