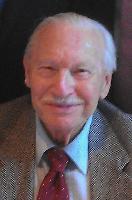 Alvin K. Fossner
Alvin K. Fossner, 93, passed away March 22 at the Eddy Village Green in Cohoes.
Born in Worcester MA, he was a music educator who taught in the South Colonie Schools in the early 1960's and then had a 30-year career teaching college at Jersey City (NJ) University and Columbia University Teacher's College. He left a musical legacy of a great number of students of whom many became professional musicians and teachers themselves.
He was an extraordinary musician who performed professionally on all the woodwind instruments in symphony orchestras and for musical theater until the age of 91. He was principal oboist for the Albany Symphony and Schenectady Symphony in the late 1950's and early 1960's before moving to New Jersey.
Al's musical training was at the New England Conservatory of Music in Boston where he met his future wife Jeannette, an accomplished pianist who shared his same passion for teaching and performing music. World War II interrupted his college years and he served in the US Army for three years before returning to graduate.
Al was predeceased byJeanette, his wife of 48 years, and was fortunate to find a dear companion in Eileen Cohen and her loving family for the last 18 years of his life.
Al was a wonderful father for his son Nathaniel (Virginia) of Clifton Park, and grandfather to Lily (Kate) Fossner, Lucy (Jonathan) Lemons, and Noah (Allison) Fossner. His third great-granddaughter was born just 2 weeks ago.
Sincere thanks to the caring staff at The Eddy Village Green. There will be a private family service. In lieu of flowers, donations in Al's name may be made to your local symphony orchestra or social cause.