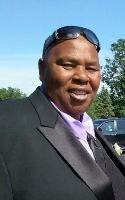 Warren William Woodberry
Warren William Woodberry, 50, passed away on March 4, 2017 at Albany Medical Center. He was the husband of Kinyetta Woodberry. They shared four years of partnership and were married for one year and nine months before his untimely passing.
Warren was born in Glen Cove, NY.
He was the son of Ralph Woodberry and Jeanette Woodberry (Davis). He graduated from Locust Valley High School in Long Island, NY. He was employed at Durham School Services and worked as a school bus monitor.
Warren belonged to Living Hope Community Church. In his spare time Warren enjoyed fishing, playing his Xbox and singing. He will be remembered most for his big hugs and infectious laugh. Warren was a passionate and exciting man. He was deeply caring and sympathetic towards others.
Warren is survived by his wife, Kinyetta Woodberry. His step children, Sehderiah and Delijah and his cats Tango & Cash. Two brothers, Ralph Woodberry and Pervis Curry, one Sister Evelyn Woodberry and a host of nieces, nephews and cousins.
He was predeceased by his parents Ralph and Jeanette Woodberry.
The Memorial service will be held at Living Hope Community Church, 458 Old Niskayuna Rd., Latham, NY 12110, on March 18, 2017 at 1:00 P.M.