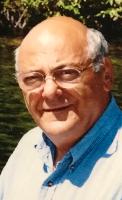 Edwin Samuel Myers, Jr.
TROY
Edwin Samuel Myers Jr., 81, passed away on March 1, 2017 at home surrounded by family after a courageous battle with lung cancer.
Ed was born on December 9, 1935 in Albany, NY to the late Edwin S. Myers and Ann Weinberg Myers. He graduated from the Albany Academy where he excelled in sports and went on to Colgate University where he played soccer, became an All-American in lacrosse, and was a member of Phi Gamma Delta. Ed was also the cadet leader of the Air Force ROTC and entered the Air Force on active duty where he became a Captain, a qualified navigator and pilot stationed mainly in the Far East. After active duty, Ed continued flying as a navigator at Stratton Air National Guard base and retired as a Major.
Following service, he embarked on a 40-plus-year career on Wall Street, working at several firms including R.W. Pressprich, Spencer Trask, Loeb, Rhoades & Co., and Dillon Read in Albany and New York City. Ed ultimately became known on Wall Street as the Dean of Preferreds, and reached the level of partner and Managing Director at both Merrill Lynch and Smith Barney. After retiring back to Albany, he finished his career at Cowen & Co.
He was preceded in death by his eldest daughter Lisa Myers, brother Marvin Myers, and sister Maryann Weisberg. Ed is survived by his caring wife of 34 years, Amanda Hamilton Myers of Troy, NY, daughter Marckle Myers (David Richter), sons Andrew Myers and Christopher Myers, grandchildren Felix Myers and Olivia Myers, and great-grandson Enzo Myers. He is also survived by niece Susan Weisberg McCain, and cousins Rosalind Coleman, Carl Myers, and Martin Weinberg (Bobbie).
Ed's kindness, sense of humor and hospitality, and stories from his military and Wall Street days were known the world over. He loved golf, fishing, boating and many of life's finer things. Fulfilling his lifelong dream, Ed spent many wonderful summers at his cottage on Wallace Island in the Thousand Islands. He was happiest on the island relaxing with his family and friends holding court, and practicing his bartending and gourmet cooking skills.
The family would like to thank Ed's medical professionals and The Community Hospice for their thoughtful care. Donations in Ed's name may be made to Save the River or The Community Hospice.
A celebration of Ed's life will be held on Sunday, March 12th at Wolferts Roost Country Club in Albany from 12:00pm to 3:00pm.
Share condolences with the family on this everlasting memorial tribute.