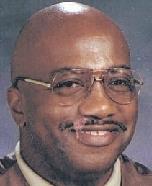 Donald Lee Artis
ALBANY
Donald Lee Artis, beloved father, brother and son passed away peacefully on February 22, 2017, at the age of 61.
He was born in Albany on April 12, 1955. Donald graduated from Phillip Schuyler High School and proceeded to work at local utility and transportation companies.
Donald was a devoted and faithful member of Wilborn Temple First COGIC in Albany for many years, and volunteered with many local community organizations. Donald was predeceased by his loving mother Arylee Artis Washington; sisters Hilda B. Willis and Hortense Artis Burns; and brother Albert L. Artis.
He is survived by his two children, Ryan D. Artis (Gina) and Kelly N. Artis (Michael Hopper); their mother Ellen D. Nilsen; and three grandchildren, William and Maxwell (Hopper) and Ryan (Artis, Jr.). He is also survived by brothers James Artis Dunk (Cheryl) and Claude Artis Dunk (Valerie); and sisters Florence Artis Walters, Mary E. Artis and Barbara Artis Burt (Robert); as well as many nieces and nephews.
A memorial service will be held for Donald at Walls Temple A.M.E. Zion Church (27 Delaware Street, Albany, N.Y.) on Monday, February 27, 2017 at 1 p.m.
In lieu of flowers, donations may be made to the 15-LOVE program at: 15Love.org.