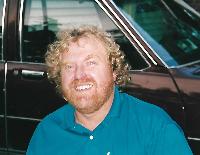 Leonard W. "Lenny" Lohmeyer
Pattersonville, NY
Leonard "Lenny" Lohmeyer died suddenly on Monday, February 20, 2017 at Ellis Hospital. Born in Amsterdam, NY, to Ernest and Lucille Grandshaw Lohmeyer. Lenny grew up in Scotia and was a graduate of Scotia Glenville High School in 1976. He was employed as a highly skilled Facility Specialist.
Lenny had a contagious laugh and was an avid hunter and fisherman. He was also a volunteer firefighter for many years at the Rector's and Pattersonville Fire Departments.
Besides his parents, Lenny is survived by his wife Diane Brophy Lohmeyer whom he married April 20, 1979, his children; Chad Lohmeyer and Tuesday Morris. He is also survived by his siblings: Russell Grandshaw, Vivian Sweeney, Fred Lohmeyer, Sally Koons, Kimberly Musgrove, Richard Grandshaw, Christine Sledziewski, Terry Grandshaw, Robert Grandshaw, Larry Grandshaw; grandchildren: Ivy Lohmeyer, Tristan Morris, Sebastian Morris and Mackenzie Rose.
Visitation will be held on Friday, February 24 from 6 to 8pm at Calvary Assembly of God Church, 200 E. Main Street, Amsterdam, NY 12010 with a service following at 8 pm.